Movers & Shakers
12 - 18 Months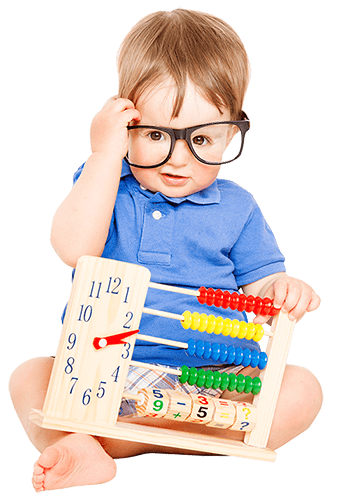 When your child turns one year old, Talented Tots Childcare begins to follow a classroom schedule where the kids eat snacks, lunch, and take a nap(s) at the same time. We follow the same schedule each day so that your child knows what to expect daily. We encourage your child's mobility in a safe, open preschool classroom where he/she can walk and run. Our Movers & Shakers program helps your child gain gross motor control through daily music and movement, ball play, riding toys and climbing toys. We foster your child's fine motor skills by helping your child learn to scribble with crayons, turn book pages, stack blocks, feed him/herself and drink from a cup. Our daycare curriculum is theme-based and we have daily circle time with thematic songs and stories. He or she will be introduced to colors, shapes and animal sounds, and will begin to recognize and say words from daily activities. Our Movers & Shakers have daily sensory exploration where he/she can gain verbal and social skills by using their five senses. Weather permitting, we provide daily outdoor play in our playground area designed strictly for infant/toddler use.
Enrollment
Schedule a Tour
Baby Signs
Infants and toddlers have the gift of curiosity and a thirst for knowledge. At Talented Tots Daycare, we begin using Baby Signs in our infant classrooms to encourage the children to use simple hand gestures and sign language to communicate their needs, what they want, or what they are seeing in their environment. Giving the infants and toddlers in our care the basic tools to communicate even before they can talk will boost their self-esteem, and decrease frustrations between caregivers/parents and the children when using words isn't an option.
Supplies List
Breast milk or formula
Bottles
Crib sheet
Pacifier (optional)
Diapers
Wipes
Ointments (as needed)
Blanket
Change of clothes
Baby food (optional/as needed)
Sunblock
Daily Schedule
A one year-old is learning and growing in many different ways. His/her personality is starting to come through, and they are beginning to understand and verbalize more words each day. Our daily schedule is designed to foster verbal, motor, and social skills for this age.
| Time | Activity |
| --- | --- |
| 7:00 AM - 8:30 AM | Greetings, organzied free play, stories, blocks |
| 8:30 AM - 9:00 AM | Diapering, hand washing, clean up (throughout the day as needed) |
| 9:00 AM - 9:30 AM | Morning Snack, water & fruit |
| 9:30 AM - 9:50 AM | Gym time/tunnels/climbing |
| 9:50 AM - 10:00 AM | Circle Time, good morning songs, talk about daily activities |
| 10:00 AM - 10:30 AM | Organized Free Play/art projects/fine motor development |
| 10:30 AM - 11:00 AM | Diapering, hand washing, clean up (throughout the day as needed) |
| 11:00 AM - 11:30 AM | Outside Play (weather permitting) |
| 11:30 AM - 12:00 PM | Lunch |
| 12:00 PM - 12:15 PM | Diapering, hand washing, clean up (throughout the day as needed) |
| 12:15 PM - 2:30 PM | Afternoon Nap Time |
| 2:30 PM - 3:00 PM | Diapering, hand washing, clean up (throughout the day as needed) |
| 3:00 PM - 3:30 PM | Afternoon Snack, water |
| 3:30 PM - 4:00 PM | Outside Play (weather permitting) |
| 4:00 PM - 4:30 PM | Diapering, hand washing, clean up (throughout the day as needed) |
| 4:30 PM - 5:00 PM | Sensory Play (playdough/painting/coloring) |
| 5:00 PM - 6:30 PM | Organized Free Play/blocks/stories, goodbye |